FOR IMMEDIATE RELEASE
GROWing a Rural Health Workforce for Northern Queensland
Today the Honourable David Littleproud, Minister for Agriculture and Northern Australia was in Cairns to announce Health Workforce Queensland as a recipient of the Northern Queensland Development Program, Business and Community Grant (the Grant).
The Grant will enable health students to be immersed, trained and skilled for employment in the communities of Mareeba, Atherton, Ravenshoe and Herberton, adding to and complementing their university schedule.
As a direct result of the Grant, Health Workforce Queensland's GROW Rural Northern Queensland (GROW Rural NQ) is set to commence in September this year. We wish to acknowledge the Australian Government in supporting this initiative, and Northern Queensland remote and rural communities. GROW Rural NQ is a collaborative involving local communities, service providers and health professionals, who will actively contribute to the program's planning and development. Importantly, GROW Rural will benefit the community as it gives the community, organisations and service providers the opportunity to participate in growing their region's future health workforce.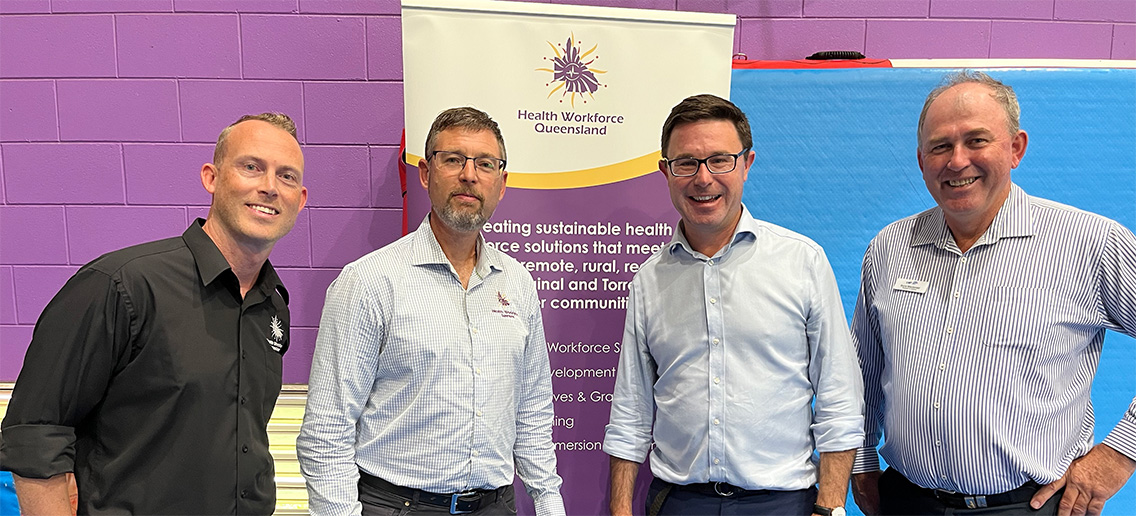 L to R: Andy van der Rijt, Health Workforce Queensland Service Delivery Manager; Andrew Hayward, Health Workforce Queensland Engagement & Development Manager; Hon MP David Litttleproud,Minister for Agriculture and Northern Australia; and Bryce Macdonald, LNP Kennedy candidate.

GROW Rural NQ will give health students a unique experience, provide them with the skills they need for local employment, whilst developing familiarity and a deeper understanding of the professional and personal life they will have when working in rural north Queensland.
Health Workforce Queensland's Engagement and Development Manager, Andrew Hayward who was in Cairns for the announcement commented "We know the positive impacts of training health students in the regions. Connecting with community, building familiarity and developing the skills they need to succeed has a major influence on a health students' decision where they will practice, this grant is a massive boost for our Northern Queensland rural communities."
​
Contact
Andrew Hayward
Engagement & Development Manager
P: 07 3105 7800 | M: 0481 457 736 | E: ahayward@healthworkforce.com.au

Media Release: GROWing a Rural Health Workforce for Northern Queensland

GROW Rural is an initiative that aligns with Health Workforce Queensland's strategic plan of growing the sustainability of the rural health workforce, as students who are exposed to rural practice during their undergraduate studies are more likely to take up rural practice in the future.

(-ENDS-)
​
Notes
Health Workforce Queensland is a not-for-profit Rural Workforce Agency focused on making sure remote, rural and Aboriginal and Torres Strait Islander communities have access to health professionals where and when they need them, now and into the future.
Through the provision of the grant, HWQ aims to create a pipeline of health graduates trained and ready for a health career in rural practice in Northern Queensland. By expanding its unique interdisciplinary immersion program 'GROW Rural' HWQ plan to implement additional activities over a 3-year period to prepare a future health workforce for employment. A targeted group of medical, allied health and nursing students will be selected and provided with exposure to rural and remote Queensland over a 3-year period. We will increase activities over this time to enhance engagement and ensure they have the necessary skills and support required to commence a career in primary health care in the communities of Mareeba, Atherton, Ravenshoe and Herberton.
The unique aspect of GROW Rural Northern Queensland (GROW Rural NQ) is that it is the only program of its type to include students from all health disciplines. It is aimed at first year health students and takes place annually over three consecutive years. Over the course of the program, the students gain first-hand experience of working collaboratively with other students from different disciplines. Students are taught about Indigenous history and culture by Elders and listen to rural career stories from local health professionals, as well as learning and improving their clinical skills by participating in scenarios that focus on the real issues faced by specific rural communities.
Health Workforce Queensland CEO, Mr Chris Mitchell, elaborates on why the grant is critical to the sustainability of the GROW Rural program.
"The Grant will enable us to expand GROW Rural and work in collaboration with the practices, communities, councils and other service providers to expose and prepare a targeted health workforce for the Northern Queensland communities of Mareeba, Atherton, Ravenshoe and Herberton. Early exposure and the development of familiarity are key to the success of GROW Rural, this grant funding means that we can implement the activities required to prepare a future workforce."
"Only a few years ago, GROW Rural was just an idea. After the outstanding success of GROW Rural Central Queensland, and the expansion into Southwest Queensland the announcement today by Minister Littleproud means that more health students will have the opportunity to be part of rural communities and discover how integral rural health professionals are to community wellbeing" he said.